Description
Excellent fully working The Big Lebowski self proclaimed Zig-Zag Edition #13
Added Chromed Coin Door, Backbox Hinges, exterior bolts, back box edges, flipper buttons & the big lebowski  Launch Ball assembly.
Plenty of mods already completed include: Flipper bat covers, target sticker kit.
light up creedence tape, Cliffy protectors, plastic protectors. mini bowling balls, Bowling Ball Launch button mod. Doobie mod, Brass Zig-Zag #13,
The Dude bowlers license, Zig Zag papers. Donny Folgers spot light, bowling pins light up mod. replica matchbox cars from movie, right side inner blade art.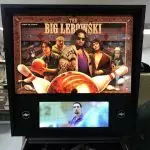 What are the features of the Big Lebowski pinball?
The Big Lebowski™ Pinball features: 1 3 flippers 2 Multi-level playfield 3 Bash Toys (Rug and Dude's Car) 4 Up to 5-ball multiball 5 Brunswick™ Bowling Alley with 10 controlled pins 6 Deep rule sheet 7 101 LED lit inserts 8 More than 200 quotes and clips from the movie More …
The Big Lebowski received mixed reviews at the time of its release. .In 2014, the film was selected for preservation in the United States National Film Registry by the Library of Congress, being deemed "culturally, historically, or aesthetically significant".