Description
Specifications:
Wide body

Dimensions:  Height:  74.25″, Width:  29.0″, Depth:  52.0″

27″ HD LCD featuring full color custom animation

RGB-LED feature lighting, white general illumination

5 Speaker 2.1 stereo surround system

Powder coated body armor and legs.

Premium clear coated playfield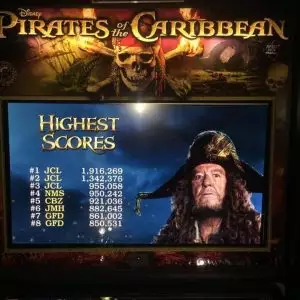 Special Features:
Hand drawn playfield art

72 light Starfield on background

Laser-cut topper

Molded playfield toys

Pop bumper rotation and toys

Choose from 22 characters

Cannon Battles

Black Pearl pirate ship, variable speed rocking upper playfield

Aim-able cannon ball at target ship

"Your Heart's Desire" 4.3 inch apron display shows best shot and more

Mechanical spinning disc map with 216 animated award combinations

13 unique shots on the playfield

6 diverters affecting 17 ball paths

17 ball paths

2 outlane skill saves

5 flipper

Maelstrom Ramp

27 targets

2 magnets

4 bumpers

3 RGB edge lit spinners

5 entrance ball subway

3 slingshots 

Wizard modes and multiballs for each of the 5 movies from the franchise

1 Ultimate Wizard Mode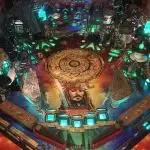 Spinning Disc Map
Trunk Lock That Opens/Closes
Rocking Ship Playfield
Cannon Shot on Dauntless
Selectable Character with Features
Selectable Pirate Awards
Liars Dice Video Mode
No one has entered any trivia for this game yet. If you know an interesting fact about this machine, please log in first, then use the 'edit this machine' link to add it!