Description
features mirrored backglass,
shaker motor,
chrome armor with spiderweb side rails,
LE art package. updated general illumination lighting to comet LEDs and added spotlights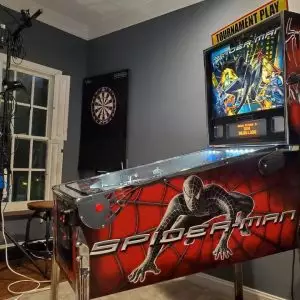 Spider-Man is a pinball machine designed by Steve Ritchie and manufactured by Stern Pinball that was first released in June 2007. The table encompasses all three films in Sam Raimi's Spider-Man trilogy, which in turn were based on the prior comics and television series. In 2016, the game was remanufactured as part of its "Vault" series of re-releases, this time with all the movie elements…
The goal of the table is to defeat the villains from all three movies: Green Goblin from Spider-Man, Doctor Octopus from Spider-Man 2, Sandman and Venom from Spider-Man 3. Once the player defeats all four villains, they'll have a chances to experience Battle Royale.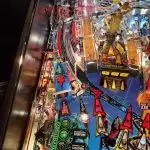 Features
[
edit
]
There are detailed, vibrant toys of each of the four villains on the playfield[3][4][5][6] with an associated shot:
J. K. Simmons, the actor who played J. Jonah Jameson in the Spider-Man films, also recorded additional lines of custom speech appropriate for the pinball game, such as "Extra ball", "Jackpot", and "Hey, kid, you just won a free game."